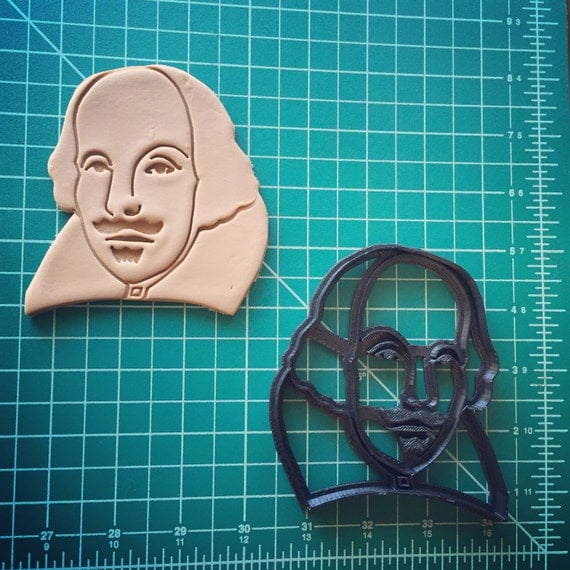 William Shakespeare Cookie Cutter
available from BoeTech on Etsy

Day 23 . . . today is Shakespeare's (probable) birthday and (known) death day! 400th anniversary of his death.

Maureen Thorson at NaPoWriMo challenges us "to write a sonnet. . . . beyond the strictures of form, sonnets usually pose a question of a sort, explore the ideas raised by the question, and then come to a conclusion. In a way, they are essays written in verse! This means you can write a 'sonnet' that doesn't have [to] meet all of the traditional formal elements, but still functions as a mini-essay of a sort. The main point is to keep your poem tight, not rangy, and to use the shorter confines of the form to fuel the poem's energy."

Robert Lee Brewer's PAD prompt: "For today's prompt, write a footwear poem. A poem about shoes, flip flops, socks, slippers, flippers, boots, pumps, and so on. If you'd prefer not to dedicate a poem to your footwear, just mention footwear somewhere in the poem. That's right; your hi-tops don't have to be the star, and it's totally cool if somebody's clogs play a minor role in the poem."

Today's "footwear" and sonnet prompts reminded me of a funny poem a friend from college wrote.


Sonnet with Footwear Starting With
Four Lines a College Buddy Wrote


—for Keith Welsh

"Whose shoes these are I think I know.
His feet are in the village though.
He will not see me stopping here
To watch his shoes fill up with snow."

Thus my friend Keith began his ode
That sadly did not mention a toad.
In "Poetry" Miss Moore set the standard
But in a garden! Not a road!

No toad is bad enough but it's a sin
To set a poem outside of a garden,
And in the woods by a road, no less!
Oh Keith! How truly pedestrian!

But I'll forgive your sin, poetic vandal,
So long as you replace "shoes" with "sandals."



—Draft by Vince Gotera

[Do not copy or quote . . . thanks.]

Obviously not a traditional sonnet rhyme scheme. Adapted the aaba rhyme of Frost's "Stopping By Woods on a Snowy Evening" to Shakespeare's sonnet scheme. I'm also pretty proud of my enjambed rhyme, spanning a line break, in the closing couplet: vandal

/

s- with sandals. I also refer to Marianne Moore's renowned phrase "imaginary gardens with real toads in them" in her poem "Poetry."

Alan used the footwear+sonnet combination to write an elegy today.


To Fill His Shoes



With all those running songs, this country bard
who sang of restlessness and fugitives
related how a common person lives,
remembered how just getting by is hard,
to keep a kid in shoes. Men stand on guard
at times, asserting manly footwear gives
an understanding of a man, revives
one's sense of purpose. Loving, scarred
from loss, and tender underneath, a son
recalls his parents' sacrifice, those shoes
someone must fill, one's need to carry on,
those hungry eyes, persistence just to lose
then measure life from little one has done,
this haggard life we live, coerced to choose.



—Draft by Thomas Alan Holmes

[Do not copy or quote . . . thanks.]

Beautiful elegy for a well-loved singer-songwriter and musician, Alan.

Jed did the same footwear+sonnet merge today.


Shoes



One of these mornings, I just won't wake up;
The new day will not distill on my eyes.
My last sigh will pass unnoticed, and sleep
Will not end. Unless the end of my life
Is more fiery, furious, sudden.
Ah, but don't forget about creeping doom;
Wasting disease which takes, until the end
Is a mercy. All these ways, death can come.

Death will always come. I name you, Specter,
Inevitable and Implacable.
Not unwelcome, nor feared, nor yet hoped-for.
Accepted, a fact, just mechanical.

Whatever remains after, I will keep
Nothing from this world. I'll leave with bare feet.



—Draft by Jedediah Kurth

[Do not copy or quote . . . thanks.]

Jed said, "You know how it is when you write something, and you're like, 'I think that's kind of good'? Because sonnet." Good for you, Jed, with slant rhymes, yet!

Ven too . . . sonnet/footwear . . . boom.


Cute Boots



Am I allowed to admire your cute boots?
If words are clothes, then I want nothing more
than your cute boots on the page, with ten beats
per line, in which your feet can rhyme and roar.
A mostly blank page — something I adore,
the good stuff laid bare, accented by feet
wrapped in cute boots. I'll read you 'til you're sore.
The black ink on this page, so terse, so sweet,
my tongue sips your lines 'til I'm drunk on sweat
as I imagine your cute boots shaking.
Are your milk white stanza breaks getting wet?
If words are sex then I guess I'm shocking.
This fever dream of reading between lines
ends and a new page beckons me to rhyme.



—Draft by Ven Batista

[Do not copy or quote . . . thanks.]

Thanks, everyone! Happy four-hundredth anniversary, Billy the Shake!

Friends, won't you comment, please? Love to know what you're thinking. To comment, look for a

red

line below that starts

Posted by

, then click once on the word

comments

in that line. If you don't find the word "comments" in that line, then look for a

blue

link below that says

Post a comment

and click it once. Thanks!

Ingat, everyone.

ヅ